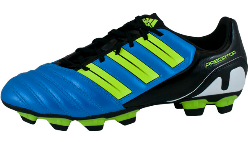 Compare it Versus > Sport > Football Boot Reviews
Football boots are being manufactured by a number of companies nowadays. There is a wide variety of football footwear available. Each style has their respective strengths and benefits which make them an important choice for both social/amateur players to pros.
Select the football boot maker you would like to see reviews for below. You can also search for a comparison between two boots/cleats.
Find the boot that is just right for your type of game.
Adidas
Lotto
Nike
Puma
Reebok
Umbro
Under Armour
Warrior
Not sure which boot to get. Check out the best football boots according to our users and compare football boots.
Like us to add anything to the football boot/cleats reviews section? Let us know.