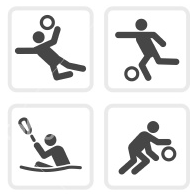 Compare it Versus > Sport
Choose the sport and product you would like to find reviews, ratings and comparisons comparing two products versus each other on.
We have sports equipment, players, teams, boots and shoes reviews and comparisons. Also check out the fitness section to get the latest opinions on these products.
We hope you find the sport features of our portal useful in finding the information you are after.
Basketball:
Basketballs
Shoes
Soccer/Football:
Football Boots Reviews
Compare Football Boots
Jerseys
Football Players
Tennis:
Tennis Racquets/Rackets
Compare Tennis Players
Rugby:
Boots
Jerseys
Golf:
Racing:
Weight Loss:
McDavid Waist Trimmer
Sports Comparisons:
Surfboarding vs bodyboarding
Badminton vs Tennis
Elliptical vs Treadmill