Compare it Versus > Technology > Bluetooth Lost Item Trackers > PebbleBee Honey Reviews
PebbleBee Honey Bluetooth Tracker
It is but natural to lose your things as you go through a normal day and so common is this problem that it is almost forgivable till the moment you miss them. Keys, mobile phone and wallet are some items that are most prone to being misplaced and sometimes even children and pets are included in this category. The problem is not about losing them but about being able to find and this is where PebbleBee Honey comes in.
Ever since the introduction of Bluetooth, the concept of using this technology to track lost objects has been instrumental in inventing several gadgets and PebbleBee is one of them. Available in two models namely Honey and Hornet, PebbleBee is the device for you if you have a habit of forgetting where you kept your keys or are trying to trace where your cat might have wandered off to. Among the two models PebbleBee Honey offers basic features like an internal speaker, a button and an LED while the Hornet is a little more advanced courtesy of having been equipped with a gyroscope and temperature sensitivity.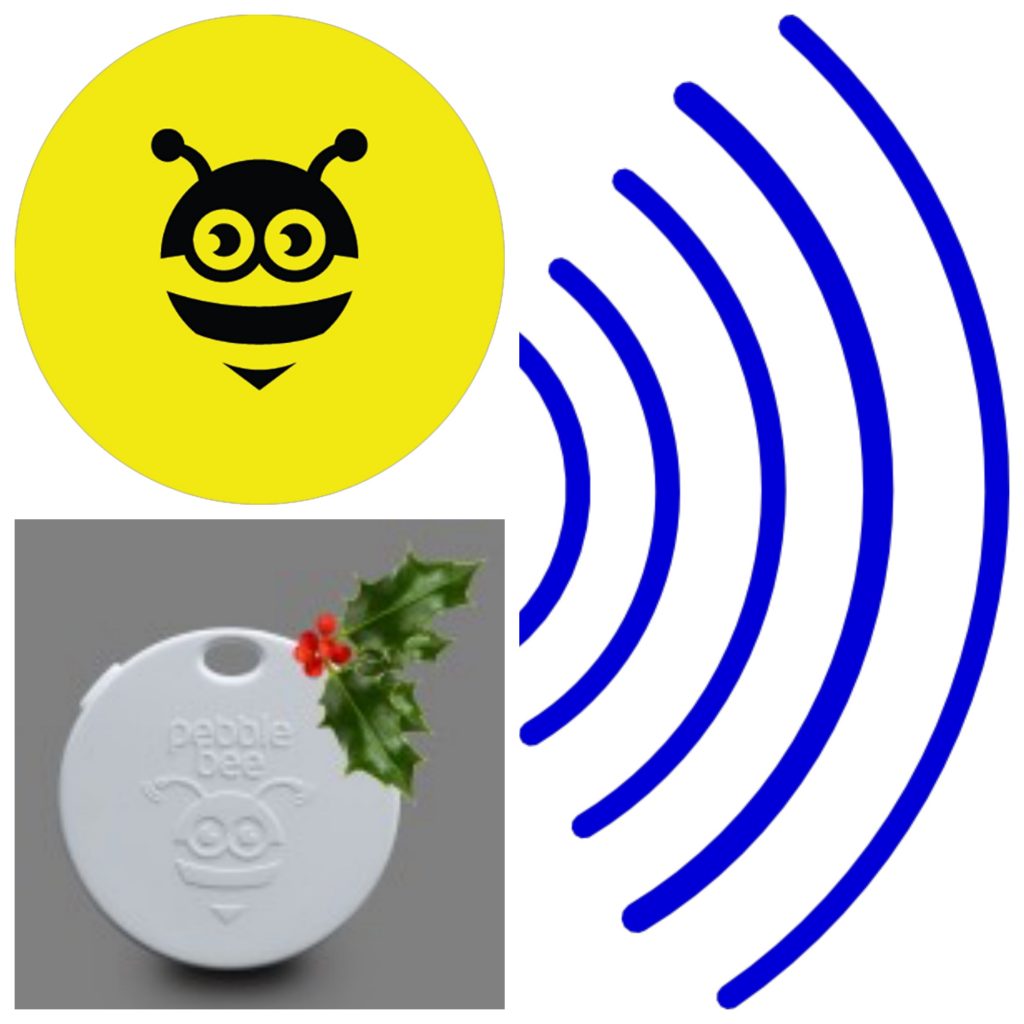 Features
Developed by a pair of software engineers, PebbleBee Honey is a flat tablet with a thickness of 5 mm and a diameter of 40 mm. To activate it, you will need to fit a battery into it and then download the app on your mobile phone. Then the two are connected via Bluetooth and henceforth the app can be configured so that the PebbleBee would light up or buzz every time the object is left behind.
At present, it is compatible with Android phones and tablets that have in-built Bluetooth and also Apple devices but it is yet to be synchronized with Windows 8. With PebbleBee it is possible to customize the trigger vis the button that is provided in the device so that the resulting sound could be a ring or it could even be a call placed to your trusted contact.
Particularly useful is an in-built range finder which would intimate the distance between you and your belonging.
All you need to do is configure the PebbleBee Honey so that it is in alert mode and it would sound an alert every time the object comes within the range of moving out. In the event that you receive an alarm and are unable to recollect where you might have left your keys, you can check the position of PebbleBee Honey on the PebbleBee network and find the exact location on Google Maps.
Functioning
Assuming you have fitted the device on your keys and have downloaded and activated the app as well, next it is time to realize how your lost keys can be found. The device generates a Bluetooth signal and on your part you will be able to gauge the approximate distance by observing its strength.
Next, you must press the map button and the last known position of the object will be revealed through Google maps. An added advantage is that of other PebbleBee Honey users also being able to track the lost object and as a result it is found with ease.
Pros
• Because it is a small, round and flat disc, PebbleBee Honey can be attached to even the smallest of objects which are more susceptible to being misplaced or forgotten.
• High durability and resistance to water render the device effective in spite of being subjected to rough treatment.
• Battery life of this device ranges between one and three years, thus implying that you would be spared the chore of changing batteries every now and then.
• To be able to spot the missing object, either the PebbleBee Honey would ring or it will flash a red light both of which are easy to apprehend.
• Courtesy of multiple monitoring functions and alert signals, there is no way a user can miss the object to which it is attached for long
Cons
• Users have complained about the signal being flaky at times, thus putting a question mark on the device's ability to provide intimation
• There have also been instances wherein the user has had to take out the battery and fix it back again for the device to respond which could prove to be a problem in case the object is actually lost
• PebbleBee Honey does have an app but feedback from clients reveals that it could do with some re-design in terms of functionality and icons. In its present state the app is not as user friendly and users have found the present icons confusing
• Keeping an eye on multiple trackers can prove to be arduous
Conclusion
Sometimes users might find the PebbleBee Honey to be lacking, especially in terms of the signal being weak or total lack of connectivity. But when the device works smoothly, it has proved itself as being extremely useful given the price of $25 and a battery life of 1-3 years. So if you belong to the ever-increasing category of people who tend to be forgetful, then the PebbleBee Honey is a cost effective and practical option for you.
Leave your PebbleBee Honey Reviews below.