Compare it Versus > Sport > Football Players > Compare Pogba vs Ozil
Paul Pogba vs Mesut Ozil
Paul Pogba and Mesut Ozil are are the two names that are resonant in the football circuit as some of the most influential midfield playmakers in the Modern Era. Pogba hails from France and is a footballer of strength and displays great speed and agility on the field. Mesut Ozil on the other hand is a playmaker. He creates many wonderful opportunities for his teammates in German team and also for his club Arsenal.
The vision Ozil has with the ball is absolutely amazing. He can see the smallest of openings in the play and with his through balls he can split the defence of any team. Ozil does not often take shot on goal. This is the reason why he has many more assists than goals. The tricks that he can do with the ball as well as the improvisation that he brings in the game are very rare to see. Due to his high number of assists he has been called as assist king in the media. His teammates and opponents accept the fact that skills Ozi posses are unique and there is no other playmaker like him. He has also been called as German Messi or German Zidane by his admirers.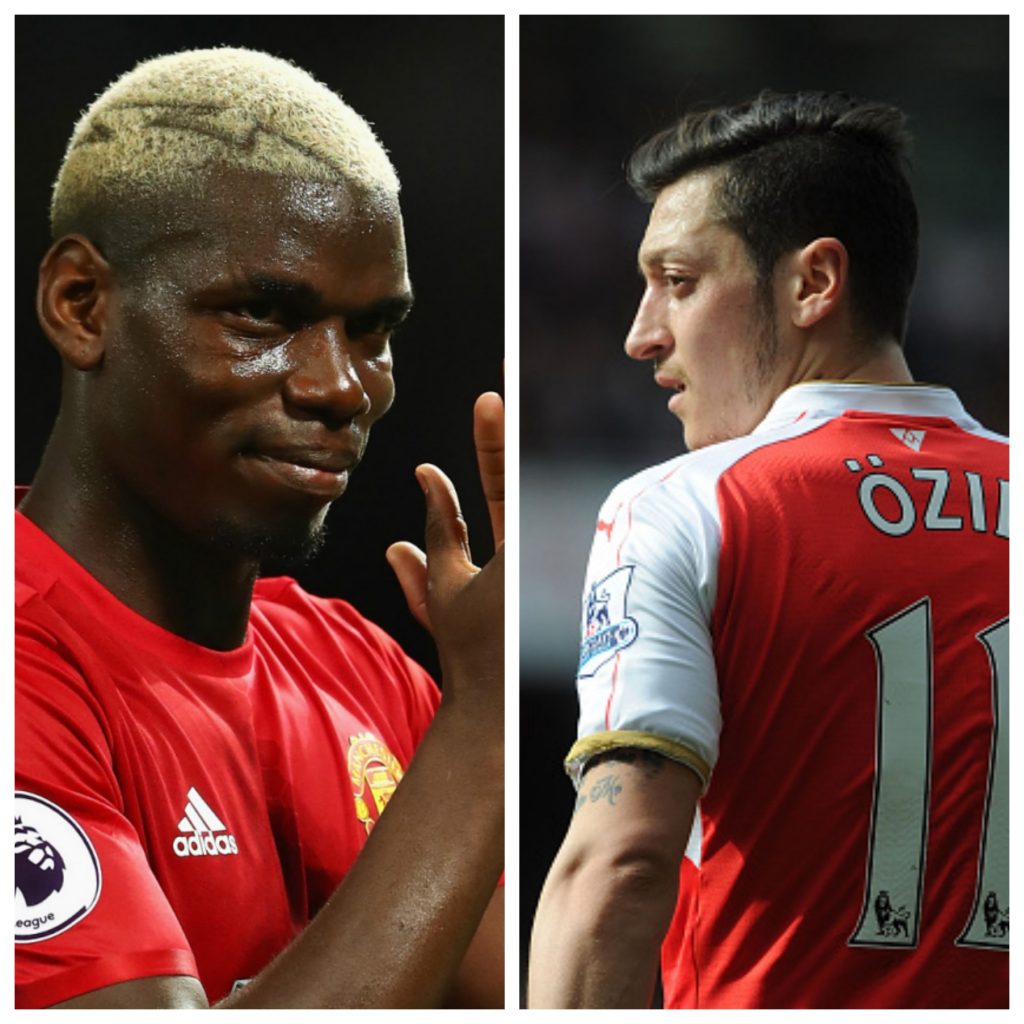 Paul Pogba on the other hand is a versatile midfielder who can attack as well as defend. He is famous for his power, skill and creativity. The energy with which he plays makes the game lively and exciting. His tall stature enables him to accelerate quickly and also gain higher speed over his opponents. He has excellent dribbling skills, composure with the ball, ability of not giving away possession easily and creative play. His ability, leadership, work-rate and skills both on and off the field, have been praised by many of his teammates and coaches.
Ozil started his career from Schalke and then to Werder Bremen. But the biggest move of his life was the transfer to Real Madrid FC. In his very first season at Real Madrid, Mesut Ozil ended up having highest number of assists by any player in Europe. His amazing form continued later cultivating into a huge offer from Arsenal. The signing amount remains undisclosed but is believed to be the highest to be paid for any German footballer.
Paul Pogba started out from Manchester United academy from the junior cadre to the senior. He later gained attention from Juventus and joined them. Due to his phenomenal performances in Juventus and for France during this time made him a star. This ultimately ended up in an all-time highest transfer offer from his former club Manchester United that he could not reject.
Pogba's illustrious career also include tiles like Euro Runner up, Serie A winner for many times and also Golden boot for Under 20 word cup. While on the other hand Ozil has won the FIFA World Cup, FIFA European player of the year, La Liga, title,FIFA top assists, Bundesliga top assists and many more.
In conclusion it is very hard to decide better one from these two. They both are one of the best football players in the world. Anyways we would like to hear from you. Please do share whom do you like the most and why? Leave your answers in the comments below!