Compare it Versus > Technology > All in One Kitchen Appliances > Compare Thermomix vs Tefal Cuisine Companion


Which is the better all in one kitchen appliance, Thermomix or Tefal Cuisine Companion? Tell us below!

Vorwerk's Thermomix vs Tefal Cuisine Companion
Are you a professional chef or need an assistant in the kitchen? Today, we compare the two products that can do just that for you and your cooking.
Both of these top of the range products promise to give you the benefit of combining more than ten kitchen appliances into one easy to use, stylish product.
Like having an assistant in the kitchen, these machines are capable of chopping, mixing, beating, whipping, grinding, mincing, juicing, stirring, steaming/basic cooking, emulsifying, weighing, chopping and heating food. All in one compact unit.
Kind of like that kitchen appliance that you overhear others talking about that is very expensive to get but they can't stop taking about once they have it. You throw a bunch of basic ingredients in the basket/ bowl and you return to see it ready to eat.
Let's have a look at both of them individually and then compare them side by side. Then I would like you to tell me which one you think is better and get a bit of a debate going.

Vorwerk's Thermomix
The early Thermomix predecessors were designed in the 1970s based on multiple function mixers designed a decade earlier.
More than two hundred thousand units have been sold since then worldwide. It is made in France and owned by the German corporate group Vorwerk.
The units are particularly popular in Europe with endorsements from numerous chefs worldwide. At a price of a couple of thousand dollars, the items are often considered for professional/restaurant use but are accessible to the general public as well.
The successful sales strategy of Thermomix has always been through direct sales by aptly named "Thermomix consultants" who provide demonstration of the machine worldwide.
The makers say that Thermomix can be used to prepare complete meals without the need for any in depth culinary knowledge. The appliance can assist with most recipes and promise to turn an average cooking experience into something special.
With extensive online and offline resources offering numerous recipes and ways of using the Thermomix easily accessible with a touch of a button, Thermomix has been marketed as reinventing simplicity.
Thermomix includes the following attachments as standard: 2.2 litre bowl, Thermomix basket, 3.3 litre steamer basket, measuring cup, spatula, integrated included scales, whipping and reverse blade/kneading attachment and multiple automatic and manual cooking modules.
Retail price: between 1600 and 2100 Australian dollars depending on country purchased from and currency (subject to change, always check)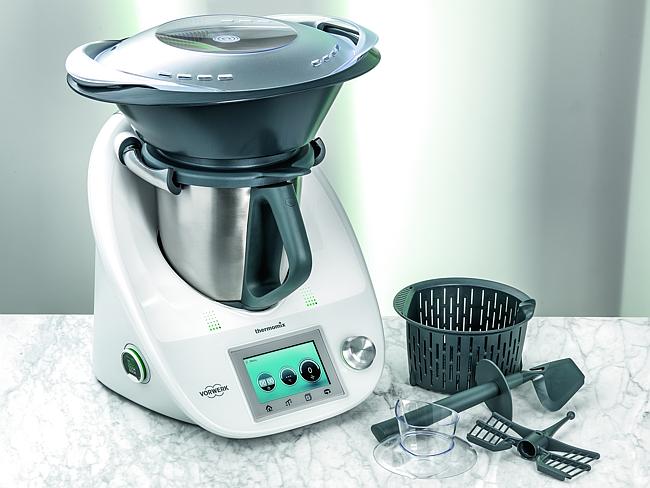 Check out Thermomix reviews
Tefal Cuisine Companion
Standing up against Thermomix, we have the Tefal Cuisine Companion, a French all in one kitchen appliance that promises to do as much for your cooking as the Thermomix.
Similar size to a coffee machine, the appliance is designed and manufactured in France by Tefal, a Groupe SEB product, the Cuisine Companion was released in early 2015 to the Australian market and is being sold exclusively through Harvey Norman currently.
Much like Thermomix, the machine promises to revolutionise the way you cook by assist with everyday cooking task including cutting, chopping, mixing, kneading, juicing, milling, cooking, steaming and heating. It also comes together with a "one million menus" recipe book for entrees, mains and deserts and online support.
The launch has been heavily marketed with television, radio, online and social media advertising and in store demonstration of the product widespread. Much like Thermomix, the Cuisine Companion has been marketed with numerous local chefs involved in the product launch.
The Cusine Companion has a button based user interface with a bowl for ingredients and multiple programmed automatic functions or a manual mode that gives you more control over every part of the cooking process.
Tefal offers a 2 year warranty on the Cuisine Companion, with the one million menus cookbook, spatula, whisking, whipping, crushing and emulsifying attachment, cleaning aid, scale, apron, an ultra blade and mixing attachment and apron.
Retail price: $1699 (subject to change, always check in store)
Check out
Tefal Cuisine Companion Reviews
Comparing the kitchen appliances side by side
Both all in one kitchen appliances are great additions to any kitchen and promise to ease and improve your culinary reach within a small, classy utility.
Being quite advanced, both can take some getting used to initially but with practice, will prove more and more useful to you in the kitchen.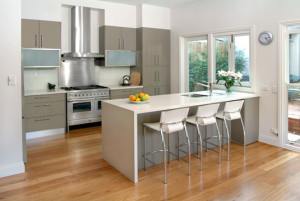 Trust/ time on market:
With over 40 years of product manufacture, the Thermomix has been around for a longer period of time and proven itself over the years, whereas the Tefal Cuisine Companion is the new kid on the block, only released in 2015
Motor:
Similar, Cuisine Companion has a 1550 watt motor compared to Themomix's 1500 watts.
Cleaning:
Both are quite good in the ease of cleaning department.
Thermomix can clean and dry itself. Most components of the Thermomix are dishwasher safe. Very easy.
In the Cuisine Companion, the blade attachments are easily removable from the appliance and safe to use in the dishwasher
Function/ quality/ performance:
Thermomix and the Tefal Cuisine Companion can both substitute numerous bulky kitchen appliances, create sorbet from fruit and ice or ice cream in minutes, mill, chop finely, grate, slow cook, blend many mixtures for baking, whip eggs, make cream and sauces with ease among many others.
Thermomix is also widely marketed to create flour and icing sugar and it is probably just a bit more versatile and robust. On the other hand, the Tefal Cuisine Companion is simpler to use and has a bigger bowl.
Which one is louder?
They are both similar and most of the time can barely be heard working in the background but the Cuisine Companion is overall just a bit quieter.
Appearance:
I will let you decide on which you find more stylish in appearance
Maximum temperature:
Comparing the maximum temperature, Thermomix has 120 degrees Celsius while the Tefal Cuisine Companion goes up to 130 degrees Celsius
Display:
The Thermomix has a high resolution, touch screen, multi line display while Tefal has more of a button based basic digital display
Buying:
Tefal is available from Harvey Norman whereas Thermomix is acquired from Thermomix consultants after usually organising a demo of the product
Price:
Both Thermomix and Tefal Cuisine Companion are quite expensive and it is important to consider your individual needs and finances before making the plunge. The machine can save you some money over time if used properly but it is a genuine investment.
Generally speaking, the Thermomix is more expensive than the Cuisine Companion. In Australia, Thermomix retails at about 2089 Australian Dollars versus the Cuisine Companion's 1699 Australian Dollars.
Warranty: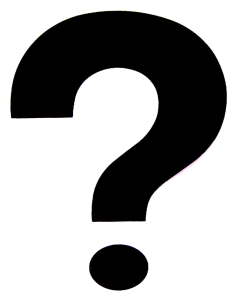 Thermomix includes a 24 month warranty if it is for domestic use and 12 month warranty if it is for commercial use. On the other hand, the Cuisine Companion has a 24 month warranty.
Verdict:
It is a close call for me. The slightly more expensive Thermomix offers a few more functions, albeit minor, compared to the Tefal and if I had to choose today, I would go for the Thermomix. I think the best way to choose would be to try both, have a go and decide with your taste buds and ease of use.
Which do you think is better, the Tefal Cuisine Companion or Thermomix?
Which all in one kitchen appliance is better? Tefal Cuisine Companion vs Thermomix?
Which one have you got or are you getting?
Tell us your experience and opinion below.