Compare it Versus > Services > Compare Supermarkets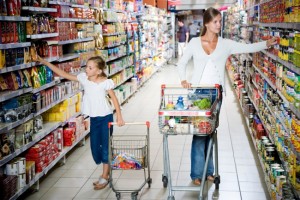 Let's analyse supermarkets.
How do you choose the right supermarket?
We hope you will find our compare supermarkets section useful. When it comes to shopping in a supermarket, you can rest assured that you will be spoiled for a range of choices, regardless of which part of the world you belong to. The list of supermarket chains is a very long one.
Some may feel that it may not make much of a difference when shopping at one supermarket or another. While in certain cases this may be a realistic opinion, the choice is usually an important one for your family and you to choose the supermarket that fits your budget and your specific shopping needs.
But how do you choose the right supermarket for you in your region?
Your supermarket has to suit your lifestyle and your preferences. Numerous factors come into this question. To help you out, we have come up with a list of factors we find useful when choosing supermarkets as well as giving you the ability to discuss and compare local supermarkets side by side based on their pros and cons, background, prices, delivery options, value, shopper opinion and ratings.
Before we compare supermarkets, what should you be looking out for when you want to select a supermarket to shop at?
Compare prices. Think about value for money.

While similar, value for money may not mean the same thing as cheapest prices. It is all about buying the best quality for your family within a specified budget on a regular basis. There are some budget supermarkets that sell the essentials and basics quite cheaply but you have to remember that the cheapest product may not necessarily be your most preferred or convenient choice. Quality, taste, ease of use, safety and personal choices come into this.
Variety Many families and individuals like to do all of their shopping at the same time and place at a regular time interval. The larger supermarket chains have the advantage of offering greater variety (and often better price due to buying power) to their shoppers. The larger supermarkets may stock a vast range of products and brands with a variety of package sizes and price points so that you may be able to get precisely what you want under the same roof. On the other hand, while smaller supermarkets or local produce markets may have a more limited range of products, they may be of higher quality and more speciailsed.
Customer service The shopping experience in a supermarket has to make the customer feel important and well taken care of. Supermarkets are competing to make sure that they provide the best customer care. The visit has to be a stress-free one for you.
Convenience This is one of the biggest factors when choosing the right supermarket. No matter how good a supermarket may be, if it is located far from you, it is just not convenient and won't be visited regularly. So location is a must. Another important, upcoming convenience facilities today is the provision of online shopping. There is no need to pile up the heavy groceries in your car and tag your kids along. Your shopping will be delivered to your doorstep. It is the age of the supermarkets coming to your door. You can now choose a website to shop online from your home's comfort and a time that may suit your family to get the groceries delivered to your doorstep. This is undoubtedly the ultimate shopping solution in terms of convenience.
Customer opinion and reviews – find out what others are saying about the supermarkets
Let's compare supermarkets:
So let's get into it. Let's look at supermarkets side by side. We hope that the side by side comparisons of supermarkets listed below with consumer reviews, votes and opinions will help guide you in the right direction.
Search for a supermarket comparison:
Compare Australian Supermarkets:
Woolworths vs Coles
Coles vs IGA
Coles vs Aldi
Coles vs SPAR
Woolworths vs Aldi
Woolworths vs Bilo
Compare NZ Supermarkets:
Countdown vs New World
Countdown vs Pak'n Save
Pak'n Save vs New World
Compare UK Supermarkets:
Tesco vs Asda
Tesco vs Morrisons
Tesco vs Sainsbury's
Tesco vs Aldi
Tesco vs Co-op
Asda vs Sainsbury's
Asda vs Morrisons
Asda vs Co-op
Sainsbury's vs Morrisons
Sainsbury's vs Waitrose
Sainsbury's vs Co-op
Compare USA Supermarkets:
Walmart vs Aldi
Walmart vs Kroger
Walmart vs Safeway
Walmart vs ShopRite
Walmart vs Trader Joe's
Walmart vs Albertsons
Walmart vs Harris Teeter
Walmart vs Save-A-Lot
Aldi vs Kroger
Aldi vs Food Lion
Aldi vs Safeway
Aldi vs ShopRite
Aldi vs Trader Joe's
Aldi vs Albertsons
Aldi vs Save-A-Lot
Kroger vs Food Lion
Safeway vs Kroger
Safeway vs Food Lion
Safeway vs ShopRite
Safeway vs Trader Joe's
Safeway vs Save-A-Lot
Kroger vs Albertsons
Kroger vs Harris Teeter
Albertsons vs Save-A-Lot
More supermarket comparisons to come