Compare it Versus > Sport > Football Players > Compare Griezmann vs Dybala
Griezmann or Dybala?
Antoine Griezmann and Paulo Dybala are undoubtedly two of the most promising young footballers. Griezmann hails from France while Dybala is a native of the football crazy nation Argentina.
Style of Play
Both Griezmann and Dybala play at the forward position but have a contrasting style of play. Griezmann usually plays as a left winger or centre forward with sometimes also as a right winger. As far as Dybala is concerned, it is right said that he is a versatile player who likes to play at any of the offensive positions. He has played as an attacking midfielder and also as a false 9 and playmaker.
Both of them are emerging and promising finds for their country as well as clubs they represent. Both players are swift, agile and possess vision for creating goal scoring opportunities. Antoine Griezmann, currently playing for Spanish club Atletico Madrid, prefers his left foot for scoring and has exceptional finishing skills. He is also regarded as a great "team player" because of the positions he gets in that create opportunities for his team mates. Griezmann also possess the ability to act as a defender and drop back a bit whenever the team needs it.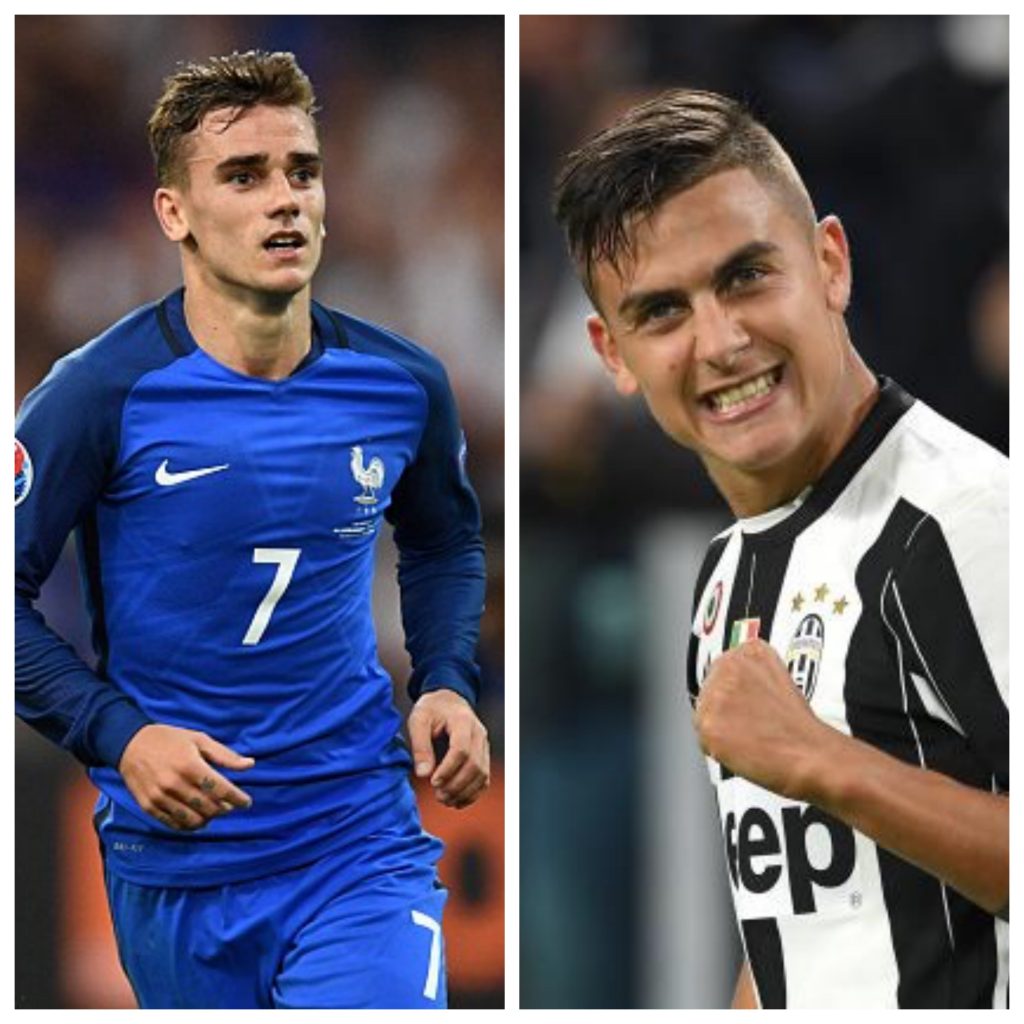 On the other hand, Paulo Dybala has the composure to finish accurately as well as to pass it towards his teammates when they have a better chance. A creative presence, he has powerful and accurate striking abilities, anticipation for the ball and determination to score. Also due to his unmatched dribbling skill, Dybala is often compared to his Argentinian national side teammate and superstar Lionel Messi and also with players like Sergio Agüero, Javier Pastore, Carlos Tevez and Omar Sívori. He is making a name for himself playing in the Serie A for Juventus FC currently, having already won several trophies with the Italian giant. His skill and form has also attracted the nickname of La Joya which means the jewel in Spanish.
International ambitions
Griezmann is admired well in his nation while sometimes being compared to greats like Zidane. Antoine was instrumental in taking France to the finals of Euro 2016 which they ultimately ended up losing to Portugal. The tournament though witnessed some of the best skills and goals from Griezmann that ended up earning him the title of best player in EURO 2016.
Dybala is yet to have a firm International presence to boast of. But yes it is highly likely that we will witness some great football from him in his upcoming International Career. He definitely has lot of responsibilities on his shoulder because he has to fill the space of greats like Carlos Tevez and Lionel Messi.
Tell us which one of theses exciting talents is better in your opinion
Both of these players have exceptional talents and have a bright future! Griezmann or Dybala – what do you think? Comment your views and also who according to you is better!